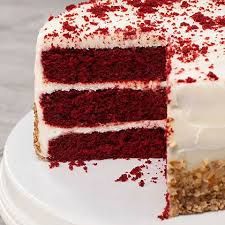 Holiday Red Velvet Cake
Your taste buds will love this delectable red velvet cake! It's three layers of rich chocolate flavor, filled and covered with scrumptious cream cheese frosting and accented with cake crumbs.
Cakes are 3 layer 8 inch cakes that will feed 20-25. Holiday Orders Must be in no later than November 18th. Pick up will be Tuesday November 26th and Wednesday November 27th. Once all dates are booked the system will no longer allow new orders. All items are made fresh using only local quality ingredients .